While there's no shortage of lotteries around the world, few offer the chance to win a colossal £19 million jackpot. It's this allure that has drawn online casino enthusiasts to explore the world of jackpot slots, and leading the pack is the illustrious Mega Moolah.
Mega Moolah Progressive Jackpot
Mega Moolah is a recurrent star in the world of online casino gaming. Its enduring popularity can be attributed to one key factor: jaw-dropping progressive jackpots. It's a game that every reputable online casino, from fledgling platforms to long-established giants, strives to have in its game selection.
But what sets a progressive jackpot slot apart? At its core, it's a game where every player, regardless of their location or chosen online casino, contributes to the jackpot with each spin of the reels. This collective effort continuously inflates the prize pool, resulting in a ticking time bomb of potential wealth. The more players flock to this game, the faster the jackpot accumulates and the larger it becomes. This is precisely why Mega Moolah regularly features in the annals of the most substantial online casino payouts.
The Colossal £19 Million Jackpot
In 2021, a player from Belgium etched their name in the annals of online casino history. They struck gold with an astronomical £19 million jackpot while immersed in the 'Absolutely Mad' variant of Mega Moolah. The magnitude of this win is staggering. Little is known about the lucky winner or how they chose to revel in their newfound fortune, but one can only imagine the spectacular celebration that unfolded.
The £18.9 Million Record-Breaker
Before the Belgian bonanza, the record for the largest online casino jackpot was held by a British player who landed a princely £18.9 million in 2018. Their triumphant journey occurred via the Mega Moolah slot game at the Grand Mondial Casino, a testament to the life-changing potential of these games. Astonishingly, the British player secured this mammoth payout with a mere stake of £0.60 and fewer than 50 spins. Such a return on investment is the stuff of dreams.
A Hero's Journey to £16 Million
The annals of online casino history also bear the tale of Jon Heywood, a British war veteran. In just seven minutes of gameplay at Betway casino, Heywood achieved the unthinkable. With a modest bet of £0.25, he claimed an astonishing £16 million prize. Heywood, who had served as a lance corporal during the Afghanistan conflict, expressed his disbelief: "I couldn't believe that I'd won all this money at the time – and it still hasn't sunk in. It's amazing." His vow was to provide the best medical treatment for his ailing father and trade his trusty Fiat Punto for a gleaming canary yellow Bentley Continental GT.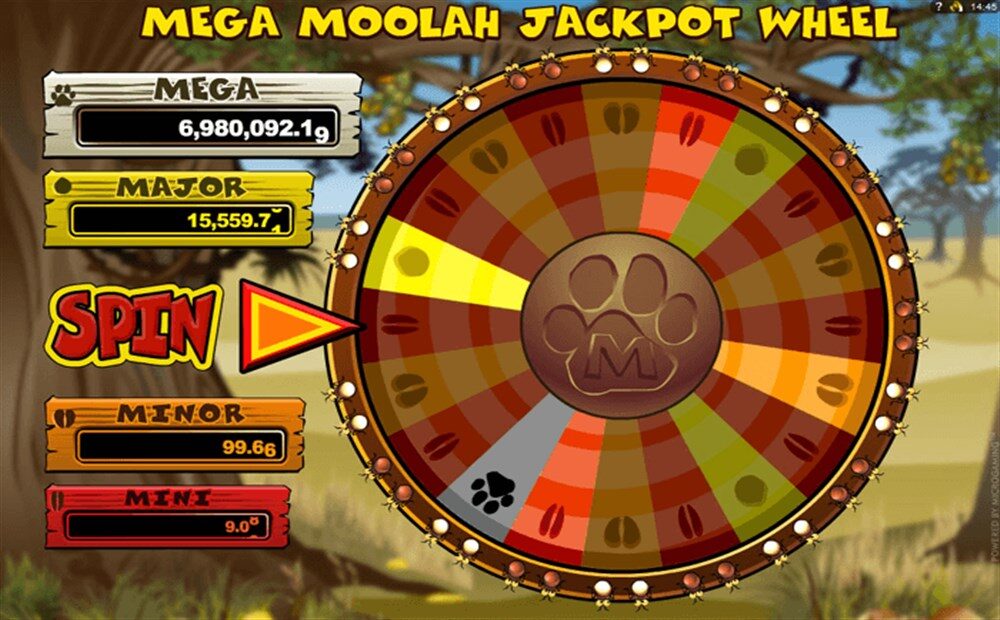 Who Developed the Mega Moolah Slot Machine?
The Mega Moolah slot machine was developed by Microgaming, a prominent software and online slots provider founded in 1994 on the Isle of Man. Over the years, Microgaming has grown significantly and become a leading name in the global online gambling industry, competing with other well-known providers like NetEnt, Pariplay, and NextGen.
Microgaming is known for its extensive library of approximately 850 unique and creatively themed games, and they have played a pioneering role in the online gambling industry's growth during the 21st century. Among their most successful titles, Mega Moolah stands out, which has become synonymous with their brand.
Some other Mega Moolah-related titles from Microgaming include Mega Moolah ISIS, Mega Moolah Absolutely Mad, Mega Moolah 5 Reel Drive, Mega Vault, and Mega Moolah Atlantean Treasures.
Where to Play Mega Moolah Jackpot Slot
Theme and Graphics
The Mega Moolah slot game offers an exciting safari experience right from the comfort of your own home. Instead of spending a fortune on a trip to the Serengeti, you can enjoy the vibrant cartoony graphics and a solid African savannah theme within this game. The graphics and theme bring the African wilderness to life, allowing you to explore its beauty and observe exotic animals without leaving your seat.
How to play the Mega Moolah Progressive Jackpot:
Game Overview: Mega Moolah is a straightforward yet captivating casino slot game with five fixed reels and 25 paylines, available at Wizard Slots. It is highly sought after in the industry due to its simplicity and widespread animal appeal.
Accessibility: This game caters to a wide range of players, from those who prefer betting small amounts to those seeking significant profits. To get started, you need to sign up at Wizard Slots, which involves filling in the registration form, confirming your email address, and making your initial deposit.
Getting Started:
Click the "Play Now" button available at various points to launch the game.
Choose your bets by selecting the stack of coins next to the spin icon or the bets tab on the lower right side. The betting options range from 0.25 to 6.25.
All 25 paylines are active during each spin.
You can also opt for the Autoplay feature, allowing the game to automatically spin 10 to 100 times.
Play Mega Moolah Slot Online for Free (Demo)
Bonus Features: The game includes special symbols, such as wilds and scatters, which can unlock bonus features and multipliers. More details about these bonus features will be discussed in the bonus section of this review.
The Mega Moolah demo slot offers a lot of excitement. With its flexible betting options, it caters to a broad audience, making the gameplay more inclusive. Additionally, the game provides the opportunity to win substantial jackpots, creating a thrilling gaming experience for everyone.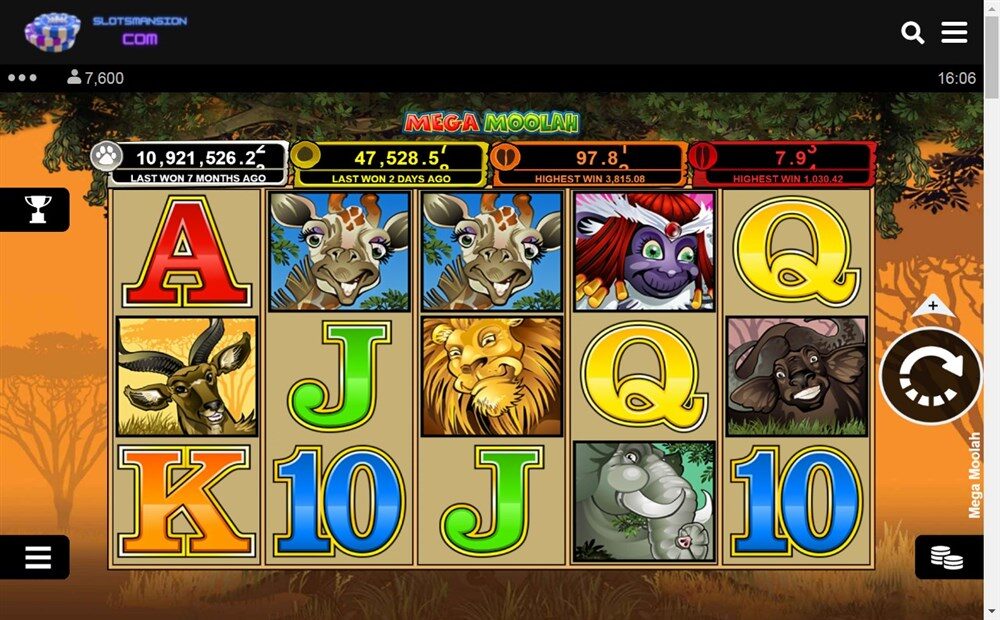 Mega Moolah Bonuses & Free Spins
In Mega Moolah online, you'll encounter various symbols and bonus features that can enhance your gaming experience and increase your chances of winning big. Here's a breakdown of the bonuses and free spins you can enjoy while playing this exciting slot game:
Scatter Symbols & Free Spins
The higher value playing cards (nine, ten, Jack, Queen, King, and Ace) are part of the game and can create lower-value combinations when linked together after each spin.
The scatter symbol in the game is represented by the cheeky monkey. When you land at least three monkey scatter symbols anywhere on the reels, you'll trigger 15 free spins.
Entice the monkey with a bunch of bananas to gather more of its friends and increase your chances of generating additional free spins, tripling your initial figure.
If you manage to get three monkeys on the reels, it will activate the Mega Moolah free spins bonus game, where you'll have the opportunity to select from the prize board and potentially win exciting rewards.
Wild Lion Multiplier
The wild symbol in Mega Moolah is the roaring Lion. Landing two Lion symbols will earn you cash prizes.
The more wild symbols you collect, the larger your cash prizes become.
The Lion symbol also acts as a multiplier, doubling your original stake and potentially boosting your winnings.
Free Spins Bonus
The witch doctor symbol is essential for this feature. Landing 3, 4, or 5 witch doctor symbols on the reels during the same spin will grant you a payout of 3, 20, or 100 times your stake.
Triggering this feature also activates the Mega Moolah Free Spins feature, awarding you 15 free spins, each with a 3x multiplier. This can lead to substantial winnings, including the game's maximum win of x11250.00.
Mega Moolah Jackpot Bonus Game
All Mega Moolah bonuses, including the Jackpot Bonus Game, are triggered randomly. However, the higher your stakes, the better your chances of activating this bonus.
When the Jackpot Bonus Game is triggered, you'll encounter a bonus wheel with four different Mega Moolah jackpot prizes:
Mini Jackpot: Starting at £10
Minor Jackpot: Starting at £100
Major Jackpot: Starting at £10,000
Mega Jackpot: Starting at £1 million
Symbol Prizes
Mega Moolah features symbols filled with Gazelles, Lions, Zebras, and other colorful creatures. These symbols can lead to cash prizes and free spin bonuses. For a detailed overview of the top prizes offered by these symbols, refer to the table below.
Mega Moolah offers a variety of exciting bonus features and opportunities to win, making it a thrilling and potentially lucrative slot game for players of all levels. Whether you're looking to enjoy free spins, multipliers, or aim for the impressive jackpot prizes, Mega Moolah has something for everyone.
Captain Cook's Casino: Deposit just £5, $5 or 5€ and get 100 Chances to Spin the Mega Moolah jackpot slot!
Zodiac Casino: Deposit just $€£1 and get 80 spins the Mega Moolah progressive slot!
Grand Mondial Casino: Deposit $€£10 and get 150 Mega Vault Millionaire spins and become an instant millionaire.
Yukon Gold Casino: 125 chances to win massive jackpots for $€10
Unlocking the Secrets of Mega Moolah: Strategies for Winning Big
Mega Moolah, the famed slot machine with a progressive jackpot, is capturing the hearts of gamblers worldwide. Are you intrigued by the idea of maximizing your prize earnings on this slot game? Look no further because we've got you covered with proven strategies for success. Our experts have meticulously tested popular gaming tactics, and we're here to reveal the ones that genuinely lead to winnings. With these strategies, you can aim to join the ranks of Mega Moolah winners.
Building Your Winning Strategy
The Mega Moolah slot generates more than three hundred Google search queries, indicating its immense popularity among gamblers. It's even challenging traditional favorites like poker, roulette, and blackjack. Most players are eager to discover how to play Mega Moolah and secure wins. To create your effective strategy, start by examining the essential characteristics of the slot:
Payout Percentage (RTP): 88.12%
Volatility: Very high
Free Test Connection: Medium
Dependence on the Player's Type and Class: Average
Maximum Winning: 225,000 coins
Bonuses: Four progressive jackpots and free spins with a 3x multiplier
Now, let's delve into the details.
Unveiling the Secrets of Mega Moolah
It's vital to acknowledge that no one-size-fits-all strategy guarantees success, as it depends on factors like your bankroll, skills, emotional balance, and time commitment. However, the following insights can assist you in crafting your personalized strategy for success:
Betting Wisely: The number of winning combinations isn't tied to your bet amount per spin, but it's recommended to opt for the maximum bet of 0.25 coins. You can distribute your chips across lines as you prefer, ensuring your bankroll is sufficient for extended gameplay.
Embrace Free Spins: Free games activate at random, and you can't influence their frequency. Be patient and await their activation. After landing a significant prize, consider taking a break before resuming play.
Chasing the Jackpot: Progressive jackpots trigger randomly. The most substantial prizes tend to hit approximately every 11 weeks. Be vigilant and monitor the slot 8-10 weeks after the last major jackpot win.
Set Limits: Avoid mindlessly chasing the progressive jackpot. Controlling your bankroll is essential to prevent significant losses and increase your chances of victory. If you lose over 30% of your account balance, it's wise to conclude your gaming session. After a significant win, consider taking a break as well.
More Spins, Better Chances: Keep in mind that your game's outcome is closely tied to the number of spins you make. The more spins you accumulate, the closer you come to significant prizes.
With these simple yet effective strategies, you're ready to tackle the Mega Moolah slot and boost your chances of winning big. Follow these tips, and not only will you conserve your chips, but you'll also significantly enhance your prospects of landing substantial rewards. Best of luck in your Mega Moolah journey!
How do you win a casino jackpot?
Jackpot slots, including Mega Moolah, are governed by a Random Number Generator (RNG). This ensures that every spin is entirely unpredictable and impartial, offering an equal opportunity to hit the jackpot. However, some jackpot slots require players to place maximum bets to be eligible for the grand prize. Thus, the secret to winning a jackpot is to carefully review the specific game's rules and qualification criteria, leaving the rest to luck.