Wild Casino Review
For those who have spent time in the realm of online gambling, the name "Wild Casino" likely rings familiar. As a prominent player in the online casino industry, it's gained a reputation for its enticing offerings and game variety. In this comprehensive review, we'll delve into the key aspects of Wild Casino, providing you with insights into its pros, cons, legitimacy, gaming variety, bonuses, banking options, mobile compatibility, and customer support. So, without further ado, let's unravel the Wild Casino experience.
Advantages:
1 – Generous Welcome Bonus: Enjoy a substantial welcome offer of up to $5,000.
2 – Diverse Live Casinos: Choose from two live casinos catering to both high-rollers and beginners.
3 – Cryptocurrency Convenience: Benefit from a variety of cryptocurrency options for transactions.
4 – Round-the-Clock Assistance: Access 24/7 customer support for prompt assistance.
5 – Thrilling Tournaments: Engage in exciting casino tournaments to amp up the excitement.
6 – Blackjack Showdowns: Participate in competitive blackjack tournaments for added thrill.
7 – Substantial Withdrawal Limits: Experience the freedom of big withdrawal limits for your winnings.
Disadvantages:
Limited Guest Access: Unable to try games without creating an account, limiting exploration.
No Phone Support: Lack of phone support might be inconvenient for some users.
Legitimacy:
Wild Casino's legitimacy is substantiated by its possession of a Panama Gaming Control Board license, showcasing its adherence to regulations and transparency. With a history dating back to 1991, the casino has demonstrated its commitment to ethical practices, further reinforced by its trusted reputation among its daily user base. Notably, the casino's substantial withdrawal limits, reaching up to $100,000 per crypto transaction, serve as an indicator of its financial security.
Gaming Variety:
With a robust assortment of games, Wild Casino caters to a wide array of preferences. From classic fruit-themed slots to cutting-edge 3D adventures, the online slot selection is expansive and accessible for free post-registration. For fans of live dealer games, the casino collaborates with two developers, Black and Red, offering a diverse selection of games including blackjack, roulette, and baccarat. The Black Casino caters to high-rollers, while the Red Casino accommodates players with lower stakes. The casino's games, provided by reputable software providers like Betsoft, Nucleus Gaming, and Fresh Deck Studios, offer a fair and trustworthy gaming experience.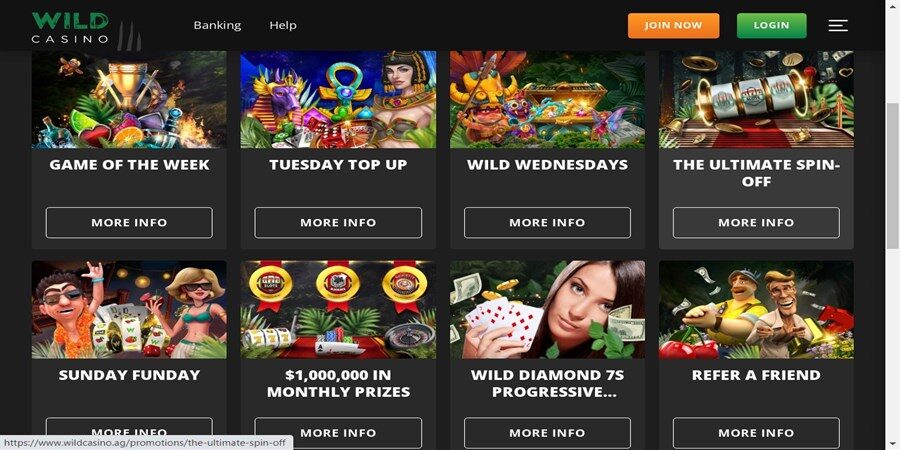 Bonuses and Promotions:
Wild Casino extends a warm welcome through a substantial bonus package of up to $5,000 across five deposits. Crypto players can enjoy even more substantial benefits, potentially receiving up to $9,000 in deposit bonuses. Beyond the initial welcome, the casino keeps the excitement alive with reload incentives, cashback offers, referral bonuses, and engaging casino tournaments. Although the absence of no deposit bonus codes is noticeable, the consistent influx of promotions ensures a captivating gaming journey.
Wild Casino Bonus Offers:
1 – Unleash a welcome package up to $5,000 across your first five deposits.
2 – Dive into the world of cryptocurrencies with a thrilling welcome bonus, up to $9,000.
3 – levate your Tuesdays with a $50 reload bonus to top up your gaming experience.
4 – Regular players can enjoy a 50% reload bonus, reaching up to $250.
5 – Infuse your Sundays with excitement using a 50% bonus, up to $500, available three times.
6 – Refer-A-Friend Bonus: Share the thrill and earn big with a 200% referral bonus, up to $200, along with 50 free spins.
Banking Options:
Navigating financial transactions is seamless at Wild Casino, which offers an extensive range of deposit and withdrawal options. Accepted methods include major credit cards like Visa and MasterCard, Money Orders, Bank Wire Transfers, and an impressive selection of 18 cryptocurrencies, including Bitcoin, Ethereum, and Bitcoin Cash. The inclusion of same-day payouts for crypto transactions is a standout feature, with fiat currency withdrawals naturally taking more time.
Mobile Compatibility:
While a native mobile app is absent, Wild Casino compensates with a mobile-friendly website that provides an optimal gaming experience on the go. Utilizing standard web browsers like Chrome and Safari, players can enjoy smooth gameplay and access their favorite games from anywhere, anytime.
Customer Support:
Wild Casino's customer support team shines with its responsiveness, knowledge, and friendly demeanor. Available via email and live chat, the support staff is dedicated to swiftly addressing queries and concerns. This reliability ensures a smooth gaming experience, with assistance always at hand.
Considerations Before Joining:
Before immersing yourself in the Wild Casino experience, several important factors warrant consideration. Country restrictions dictate eligibility, so it's crucial to check whether your location is supported. The list of restricted countries is comprehensive, encompassing regions like Afghanistan, Australia, South Africa, and more. Furthermore, understanding the accepted currencies is vital to ensure smooth transactions, and players must be at least 18 years old and prepared to verify their identity for withdrawals. Lastly, Wild Casino encourages responsible gambling through features like deposit limits and self-exclusion options, promoting an enjoyable and controlled gaming experience.
Conclusion:
Wild Casino emerges as a formidable contender in the online gambling arena, offering a blend of enticing features, a diverse game portfolio, and a user-friendly interface. Its legitimacy, established reputation, and commitment to player security underscore its position as a trusted platform. While minor drawbacks like the absence of free guest game trials and phone support exist, the overall experience offered by Wild Casino remains robust and captivating. As you consider joining this online casino, weighing its pros, cons, and considerations will guide you toward a well-informed decision, potentially unlocking a thrilling and rewarding gaming journey.