Pros
Doesn't accept players from USA
Diverse selection of over 800 games from top providers
Established in 2004
Very good reputation rating
Casino accepts players from many countries
Wide range of languages and currencies
Casino VIP Program
User-friendly interface and easy navigation/li>
24/7 Customer support through live chat
Cons
Doesn't accept players from U.S
Platinum Play Casino Review
Boasting a game collection with over 800 titles, Platinum Play Casino caters to diverse player preferences, offering an extensive array of slots, table games, and live dealer options. As a member of the esteemed Fortune Lounge group of casinos, Platinum Play ensures a secure and fair gaming environment, holding licenses from the Malta Gaming Authority.
With a decade-long legacy, Platinum Play has been a reliable source of entertainment for players, providing high-quality games, generous bonuses, and robust digital security measures. The casino places a strong emphasis on responsible gaming, adhering to the strict regulations outlined by eCOGRA (e-Commerce and Online Gaming Regulation and Assurance).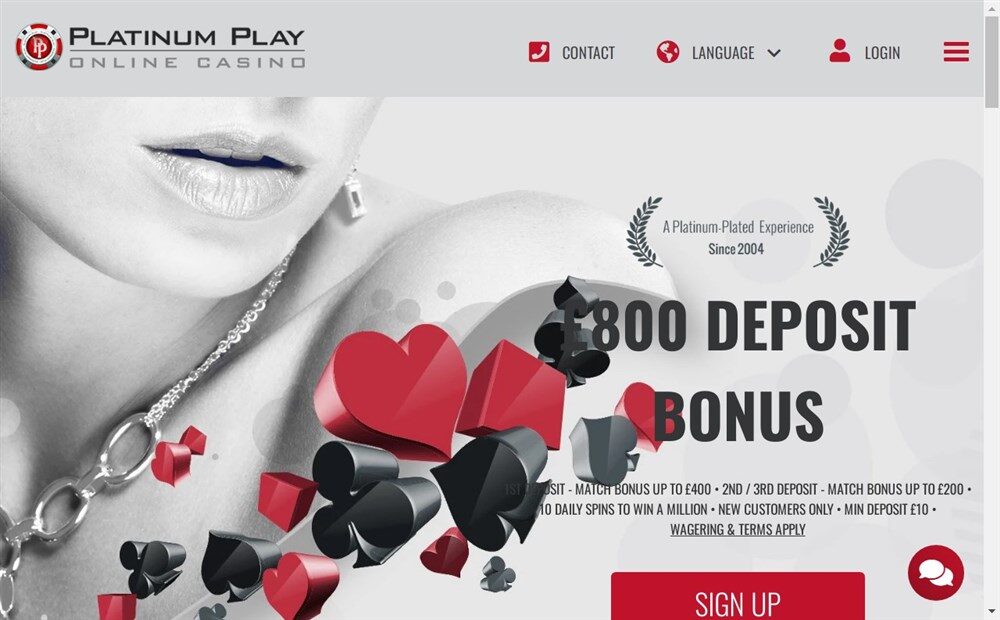 New players are welcomed with a generous sign-up bonus, and regular promotions, along with a loyalty program, offer ongoing rewards. The platform supports multiple payment options, ensuring convenient and hassle-free deposits and withdrawals. Moreover, Platinum Play's 24/7 customer support stands ready to assist players with any questions or concerns.
The Best Online Casino Games at Platinum Play
Embark on an extraordinary online casino journey with Platinum Play, where a vast selection of thrilling games awaits at the tip of your fingers. With a simple click on your desktop or a tap on your mobile device, immerse yourself in a world of swashbuckling adventures, incredible bonus features, and captivating game effects.
Online Slots:
For those who relish themed graphics, Free Spins, and substantial bonus features, online slots emerge as the game of choice. Platinum Play offers three types of slot games: reel, video, and arcade slots. Explore a wide selection, including popular titles like the adventurous Jurassic Park™ or the daring Game of Thrones™ online slots. Live dangerously with Lara Croft in Tomb Raider™, unlocking different achievement levels and increasing your rewards.
If slots don't capture your interest, showcase your skills at thrilling online table games. Test your prowess at online blackjack and roulette tables, adding a strategic element to your gaming experience.
Online Progressive Jackpot Games:
Platinum Play presents online progressive jackpot games boasting the largest jackpot pool on the web. A small portion of each losing wager contributes to a central jackpot, steadily growing with every lost bet until the moment the jackpot is struck. Witness jackpots that can soar into the millions, creating an exhilarating gaming environment.
Video Poker: Video Poker aficionados will find a variety of options at Platinum Play. Engage in single and multi-hand online video poker titles, showcasing your skills and enjoying hours of entertainment.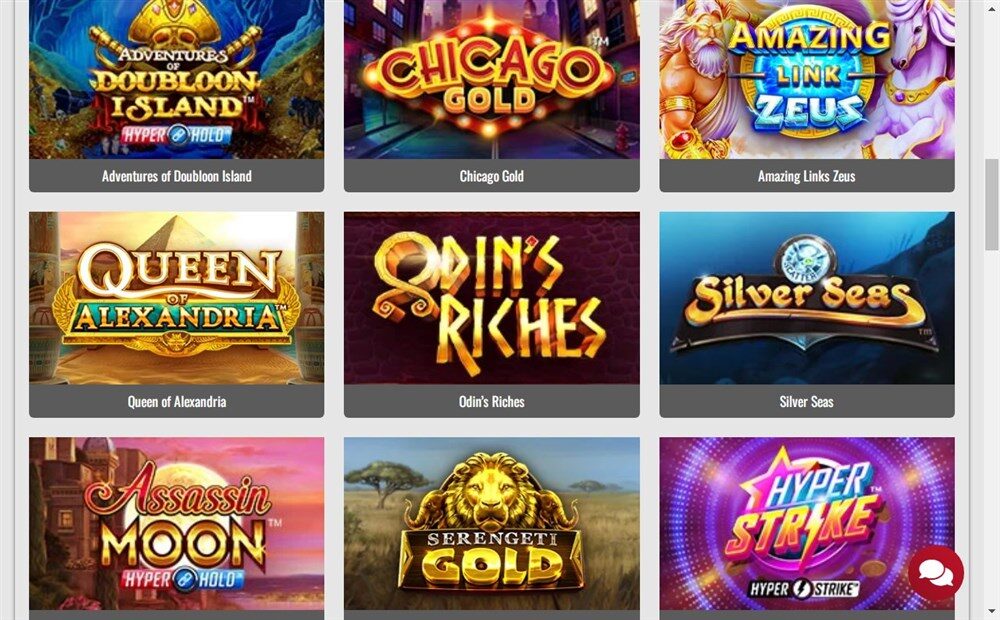 Scratchcards and Casual Gaming: For instant gratification and impressive winning opportunities, explore Platinum Play's scratchcards and casual games. These offerings add a layer of excitement, catering to diverse interests and providing quick thrills.
Platinum Play Casino ensures an unparalleled gaming experience, offering something for everyone in its extensive game portfolio. Whether you're a fan of slots, table games, progressive jackpots, video poker, or casual gaming, Platinum Play brings the best of online casino entertainment to your fingertips. Get ready for an adventure like no other!
Platinum Play Casino Unveils Exclusive Promotions for Ultimate Gaming Thrills
For casino enthusiasts seeking big and exhilarating promotions, Platinum Play Casino stands as the ultimate destination. The casino rolls out a diverse array of promotions designed to cater to the preferences of players, featuring daily, weekly, and monthly opportunities to score exciting prizes. From Free Spins and casino credits to entries into lucky draws for luxury cruises, bonuses, and cutting-edge gadgets, the promotions at Platinum Play promise thrilling rewards.
A Welcome Package Fit for Royalty: £800 Bonus Awaits New Players
New players entering the realm of Platinum Play are greeted with a regal Welcome Package worth up to £800 in bonuses. The generosity of this package extends over the first three deposits, making the initiation into the Platinum Play experience truly exceptional.
Here's a step-by-step guide on how new players can claim their royal welcome:
Register an Account: Kickstart your Platinum Play journey by registering an account on the platform. The process is swift, ensuring you're moments away from accessing the incredible world of online casino entertainment.
First Deposit Bonus: 100% Match up to £400 Upon making your initial deposit (with a minimum of £10), Platinum Play reciprocates with a 100% match bonus, effectively doubling your deposit up to £400. This bonus boost sets the stage for extended gameplay and increased winning opportunities.
Second Deposit Bonus: Another 100% Match up to £200 As you continue your adventure, the rewards keep flowing. The second deposit brings another 100% match bonus, this time up to £200. Platinum Play ensures that the excitement doesn't wane, providing players with a substantial boost to their bankroll.
Third Deposit Bonus: Yet Another 100% Match up to £200 The royal treatment doesn't conclude with the second deposit. Upon making the third deposit, players receive an additional 100% match bonus, once again up to £200. This triple-tiered welcome package marks the beginning of a gaming journey filled with opulent bonuses and thrilling possibilities.
Claim Your Welcome Bonus Now
Platinum Play Casino's commitment to providing a grand welcome underscores its dedication to delivering an unparalleled online casino experience. As players embark on their gaming venture with a lavish Welcome Package, the stage is set for indulgence, excitement, and the pursuit of extraordinary wins. Join Platinum Play today and claim your seat at the table of royalty!
Mobile Gaming
Platinum Play Casino Redefines Mobile Gaming with Unrivaled Experience
In the fast-paced world of online casinos, Platinum Play sets a new standard with its exceptional mobile gaming experience. The casino's mobile application, easily accessible through various platforms, ensures that players can indulge in seamless gaming on the go. Whether you're using an Apple device or an Android smartphone, the Platinum Play Casino mobile app is just a click away, offering unparalleled convenience.
Where to Find the Platinum Play Casino Mobile App:
Casino Website: The mobile app is readily available on the Platinum Play Casino website, ensuring straightforward access for players eager to dive into the gaming action.
iTunes Store & Apple Store: Apple enthusiasts can find the app on the official iTunes store and Apple Store, making it a breeze to download and install on their devices.
Play Market: Android users can locate the app effortlessly on the Play Market, providing a hassle-free installation process for a diverse range of Android smartphones.
Internet Search: For those who prefer a direct approach, a simple internet search will lead to the Platinum Play Casino mobile app, ensuring accessibility for users across different devices.
Immersive Gameplay:
The Platinum Play Casino mobile app boasts an extensive selection of games, catering to the diverse preferences of players. Whether you're a fan of thrilling slots, engaging poker, or classic table games like roulette and blackjack, this app delivers a gaming experience tailored to your liking.
With stunning graphics, smooth animations, and an intuitive user interface, the mobile app ensures an immersive environment that captures the essence of gambling excitement. The high-quality gameplay offered by Platinum Play Casino sets it apart as a leader in the realm of mobile gaming.
Customer Support at Your Fingertips:
Platinum Play prioritizes customer support, offering multiple channels for players to seek assistance:
Live Chat: For real-time communication, the live chat feature connects players directly with customer support representatives. Ideal for quick assistance or casual inquiries, live chat ensures immediate responses.
Email: A formal approach for detailed queries, the email support allows players to express concerns, seek clarification on rules, or address account-related matters. Clear communication ensures efficient resolution.
Telephone: Those seeking a personal touch can opt for telephone support, where friendly agents guide players through issues such as deposits, withdrawals, or game-related inquiries.
Social Media: Stay connected and informed by following Platinum Play Casino on social media platforms like Facebook, Twitter, or Instagram. Engage with the casino community, receive updates on promotions, bonuses, and immerse yourself in the social side of gaming.
Platinum Play Casino's commitment to delivering an unparalleled mobile gaming experience extends beyond the games, incorporating robust customer support for a holistic and satisfying journey. Whether you're chasing jackpots or exploring new titles, the Platinum Play Casino mobile app ensures a world of excitement at your fingertips.
Platinum Play Casino Details