Pros
Doesn't accept players from U.S
Established in 2000
Very good reputation rating
The best Microgaming slots
Various e-wallets supported
Certified by eCOGRA
Casino Rewards Loyalty Program
Popular progressive jackpot slots
Member of the Casino Reward Group
Supports many deposit methods
24/7 Customer support through live chat
Cons
Doesn't accept players from U.S
Captain Cooks Casino
Captain Cooks Casino stands out as a prominent online gambling platform, backed by the reputable Casino Rewards Group. This casino, operating since the year 2000, has earned its place as an award-winning and trustworthy online gaming destination. In this comprehensive review, we will delve into various aspects of Captain Cooks Casino, exploring its licensing, game offerings, welcome bonuses, and more.
Licensing and Ownership:
Captain Cooks Casino is under the ownership of the esteemed Casino Rewards Group, a company synonymous with trust and reliability in the online casino industry. The casino holds licenses from three reputable authorities: the UK Gambling Commission, Kahnawake Gaming Commission, and Malta Gaming Authority. These licenses underscore the platform's commitment to adhering to strict regulations and ensuring a secure gaming environment.
As part of the Casino Rewards Group, Captain Cooks Casino shares its pedigree with other well-known and legitimate casinos. The group includes names like Luxury Casino, Zodiac Casino, Yukon Gold Casino, Luxury, Golden Tiger, Blackjack Ballroom among others. This network of casinos collectively reinforces a commitment to legitimacy, safety, and a stellar reputation.
All Casino Rewards Member Casinos
Years of Operation: With over two decades in the industry, Captain Cooks Casino has established itself as a reliable and experienced player in the online gambling arena. The extensive experience contributes to its understanding of player needs and preferences, offering a platform that caters to a diverse range of gaming tastes.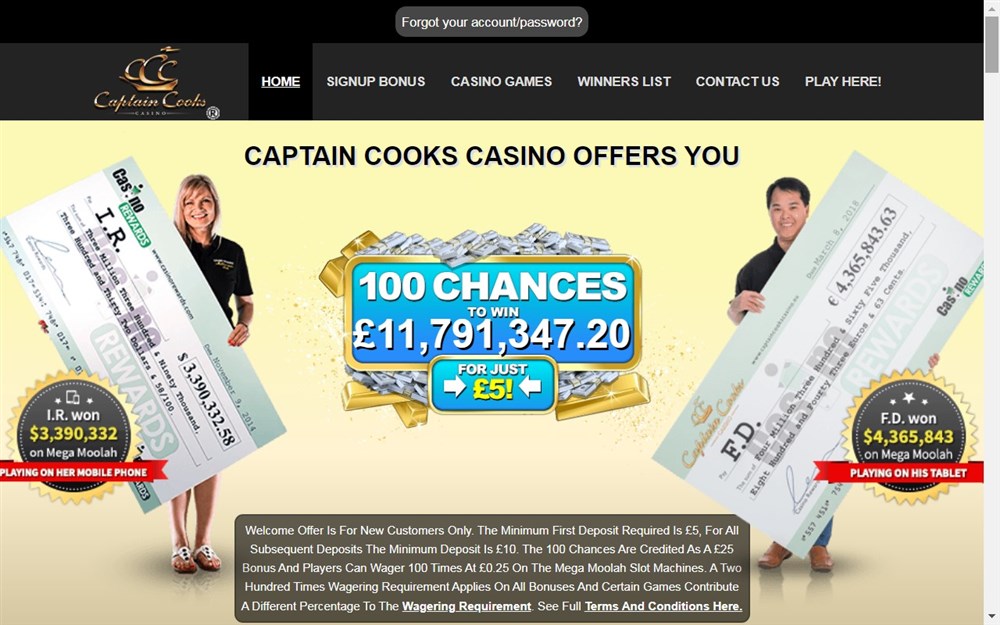 Welcome Bonus Package:
New players at Captain Cooks Casino are welcomed with an enticing bonus package that enhances their initial gaming experience. Upon the first deposit of $/€/$ 5, players receive 100 chances to play on the Mega Moolah progressive jackpot game. This provides an exceptional opportunity to aim for the multi-million dollar jackpot that Captain Cooks Casino is renowned for. The generosity doesn't end there; the welcome bonus extends to subsequent deposits:
Second Deposit: 100% match bonus (up to $/€/$ 100)
Third Deposit: 50% match bonus (up to $/€/$ 150)
Fourth Deposit: 25% match bonus (up to $/€/$ 125)
Fifth Deposit: 100% match bonus (up to $/€/$ 100)
This multi-tiered welcome package ensures that players receive added value across their initial deposits, making their journey at Captain Cooks Casino more rewarding.
Sign-up Bonus: 100 chances to become an instant millionaire for $€5 And Up to $€475 bonus on your next 4 deposits
Casino Games
Captain Cooks Casino, a prominent online gaming platform under the umbrella of Casino Rewards, distinguishes itself with a versatile and extensive collection of table games, video poker, and video slots. In this comprehensive exploration, we delve into the various categories, highlight noteworthy titles, and unravel the unique features that make Captain Cooks a compelling destination for diverse gaming experiences.
Table Games Extravaganza: Diverse Choices Await: The Table Games section at Captain Cooks Casino boasts an impressive array of over 50 table and card games, ensuring that players with varied preferences find their ideal gaming haven. The majority of these games are provided by Games Global, with additional offerings from the innovative Switch Studios.Terminator 2 Roulette, Ultimate Blackjack with Rachel, Real Roulette with Caroline, Classic Blackjack with Perfect, American Roulette, Three Wheel Roulette, European Roulette Gold Series
Main Categories: Blackjack, Roulette, Baccarat, Poker, Dice Games (Craps and Sic Bo)
Beyond the traditional table games, Captain Cooks Casino caters to diverse tastes, providing an additional category for electronic table games. Currently, players can explore options such as European and American Roulette, various Blackjack variants (Vegas Downtown, European, Classic, Single Deck, Atlantic City), and Baccarat.
Video Poker: A Strategic Adventure
For aficionados of video poker, Captain Cooks Casino ensures an engaging and strategic gaming experience. The available variations cover a spectrum of popular choices, including: All Aces, Deuces Wild, Aces & Eights, Jacks or Better, Double Double Bonus Poker, Aces & Faces
All video poker versions are single-hand, allowing players to immerse themselves in strategic decision-making. While multi-hand options are not offered, the variety ensures that fans of this genre find ample choices to suit their preferences.
Video Slots:
Video slots take center stage at Captain Cooks Casino, constituting a substantial portion of the gaming library. Powered primarily by Microgaming, the platform may lack titles from other providers like NetEnt or Play'n GO. However, the inclusion of games from all Microgaming partner studios ensures a diverse and comprehensive selection.
Noteworthy Progressive Slots: Mega Moolah, Mega Vault, Cash Splash, Treasure Nile
For players seeking life-changing wins, Captain Cooks Casino offers an extensive range of Microgaming progressives. Titles like Mega Moolah and Mega Vault provide thrilling opportunities to test Lady Luck.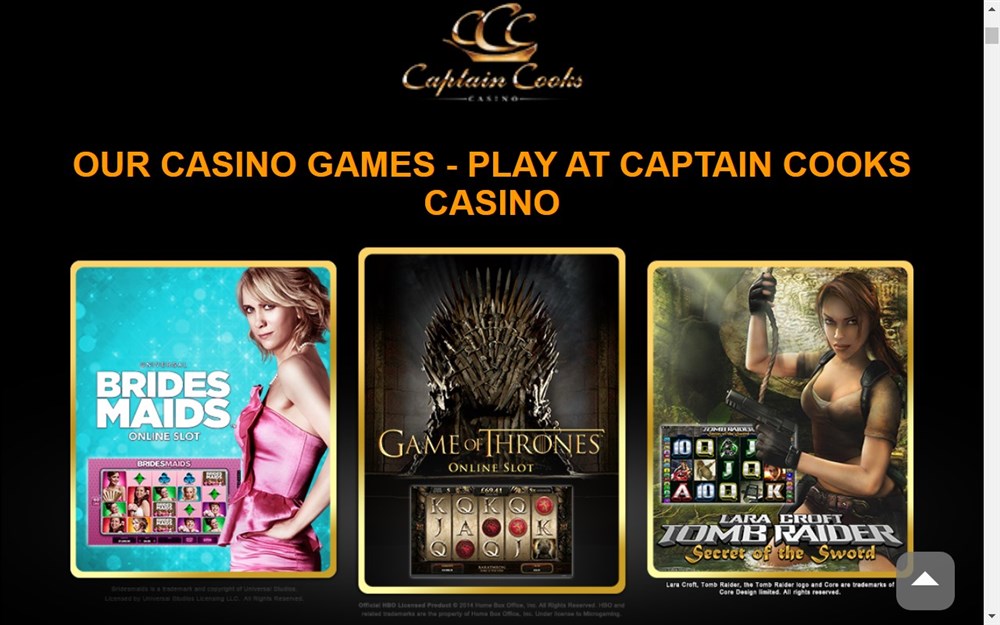 Classic and Familiar Titles: A Nod to Gaming Nostalgia: Beyond the progressive slots, Captain Cooks Casino hosts a repertoire of video slots that have achieved classic status in the online gambling community. Titles such as Thunderstruck II, Immortal Romance, Dragonz, Emperor of the Sea, Jungle Jim, and Playboy are favorites among players seeking familiarity and nostalgia.
Consistent Updates for Unwavering Excitement: Captain Cooks Casino stands out for its commitment to providing a dynamic gaming environment. Regular updates to the gaming library, featuring new titles from Microgaming and partner studios, ensure that players have access to the latest games almost as soon as they are released. This dedication contributes to an ever-evolving and captivating gaming experience.
Live Dealer Games at Captain Cooks Casino
At Captain Cooks Casino, the gaming experience transcends the virtual realm with an impressive array of live dealer games that bring the excitement of a land-based casino directly to your screen. In this comprehensive analysis, we unravel the magic behind these live dealer games, showcasing the unparalleled thrill they offer to players worldwide.
Redefining Fair Play: Beyond RNGs: While traditional online casino games rely on RNGs (Random Number Generators) to determine outcomes, live dealer games at Captain Cooks Casino take a different approach. These games stand as the epitome of realism, providing players with an experience that closely mirrors playing at a physical casino. The driving force behind this immersive experience is none other than Evolution Gaming, a multi-award-winning company renowned for its commitment to excellence.
Embark on a Live Gaming Adventure: Game Highlights
Live Lightning Roulette: A high-octane version of the classic roulette, injecting electrifying energy into every spin.
Live Craps: Roll the virtual dice and experience the iconic game of craps in an immersive online environment.
Live Crazy Time: An unpredictable and exciting game show-style experience with big win potential.
Monopoly Live: A captivating fusion of the classic board game and a live money wheel, offering an interactive and engaging experience.
Live Deal or No Deal: Channel your inner contestant as you engage with the iconic game show for a chance at thrilling prizes.
Play Live Dealer Games At Captain Cooks Casino
Diverse Live Dealer Offerings: Beyond the Basics: For players seeking a broader spectrum of live dealer games, Captain Cooks Casino provides an extensive selection that goes beyond the traditional casino fare. Some additional enticing options include: Live Crazy Coin Flip, Live Infinite Blackjack, Dead or Alive, Live Immersive Roulette
Classic Games Reimagined: Live Blackjack and Roulette
The live dealer experience at Captain Cooks Casino introduces classic games like Live Blackjack and Roulette to a new dimension. With professional dealers, cinematic-quality video streams, and real-time interaction, players are immersed in an authentic casino atmosphere without leaving the comfort of their homes.
Elevate Poker Nights: Live Caribbean Stud Poker and Three Card Poker
Poker enthusiasts can elevate their gaming experience with live dealer versions of Caribbean Stud Poker and Three Card Poker. Engage with real dealers, strategize, and enjoy the social dynamics of poker in a virtual setting.
Game Shows: Live Dream Catcher, Monopoly, and Super Sic Bo
For those craving a game show-style adventure, Captain Cooks Casino offers Live Dream Catcher, Live Monopoly, and Live Super Sic Bo. These games blend entertainment and winning potential, providing players with an immersive gaming experience.
Evolution Gaming's Signature Touch: Cinematic Quality and Professional Dealers
Developed by Evolution Gaming, Captain Cooks' live dealer games come to life with cinematic-quality video streams and professional dealers. The visual and auditory excellence ensures that every moment spent in the live gaming arena is a feast for the senses.
Captain Cooks Casino stands as a beacon of live dealer gaming excellence. The platform, powered by Evolution Gaming, delivers an unparalleled fusion of technology, entertainment, and realism. From classic casino games to innovative game show experiences, live dealer games at Captain Cooks Casino redefine online gaming, providing players with an immersive and thrilling adventure.
Progressive Treasures at Captain Cooks Casino
For those with a penchant for heart-pounding excitement and life-changing wins, the progressive jackpot section at Captain Cooks Casino stands as a beacon of fortune. In this in-depth exploration, we unveil the allure of over 20 famed progressive slots, showcasing the most iconic titles and the exhilarating world they unlock for players seeking the ultimate gaming thrill.
The Progressive Jackpot Panorama: A Gateway to Riches: Upon entering the progressive jackpot section, accessible through the Captain Cooks Casino sign-in page, players are greeted by a treasury of over 20 renowned progressive slots. This collection represents the pinnacle of jackpot entertainment, where fortunes are made with each spin of the reels.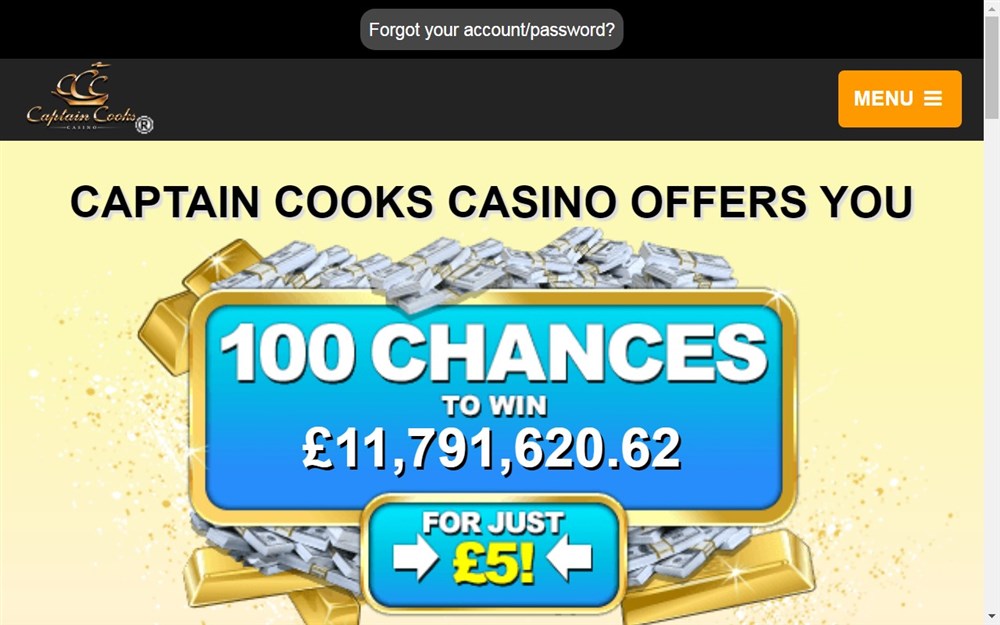 Mega Moolah Magic: A Million-Dollar Promise
At the heart of the progressive jackpot lineup lies the Mega Moolah series, a legendary collection that has redefined the possibilities of online slot gaming. The Mega Moolah MEGA Jackpot, with a floor value of $/€/£1,000,000.00, beckons players to join the pursuit of massive riches. The Mega Moolah series comprises iconic titles that have become synonymous with colossal jackpots and thrilling gameplay.
Mobile Casino:
In the ever-evolving landscape of online casinos, Captain Cooks stands as a beacon of immersive gaming experiences, extending its reach to the fingertips of players with its mobile casino. In this exploration, we delve into the captivating world of Captain Cooks Mobile Casino, where players can set sail on a thrilling journey of entertainment anytime, anywhere.
Seamless Transitions: From Desktop to Mobile: Captain Cooks Casino, known for its nostalgic design on desktop, seamlessly transitions into the mobile realm, ensuring that the allure of its vast gaming library is not confined to a specific device. Whether players prefer the convenience of a PC, the flexibility of a tablet, or the mobility of a smartphone, Captain Cooks Mobile Casino adapts, offering a consistent and engaging experience across various platforms.
Instant Play on the Browser: Gaming On the Go
Embarking on a gaming adventure has never been more accessible. With Captain Cooks Mobile Casino, players can indulge in instant play directly through their mobile browsers. This means no downloads or installations are required, making it a hassle-free experience. Whether you're on an Android or iOS device, a smooth and captivating gaming session awaits with just a few taps.
The Captain Cooks Mobile App: A Voyage of Convenience: For those who crave the convenience of a dedicated app, Captain Cooks Casino has you covered. While the casino doesn't offer a download-free option, players can opt to download and install the software on their mobile devices. This not only provides quick access to the casino but also ensures that the gaming environment is tailored to suit the specifications of your device.
Navigating the Mobile Seas: User-Friendly Design: The layout of Captain Cooks Mobile Casino mirrors the desktop version, maintaining familiarity for seasoned players while offering intuitive navigation for newcomers. The user-friendly design ensures that players can effortlessly explore the extensive game selection, access promotions, and manage their accounts with ease, regardless of the device they choose.
Captain Cooks Casino VIP Program
In the vast ocean of online casinos, Captain Cooks stands as a distinguished vessel, not just for its captivating games but also for its commitment to rewarding loyalty. As part of the esteemed Casino Rewards group, Captain Cooks Casino offers a VIP program that adds an extra layer of excitement for its dedicated players. Let's set sail into the realm of rewards and explore the key features of the Captain Cooks Casino VIP Program.
An Exclusive Voyage: Casino Rewards Group Membership Captain Cooks Casino is not just any online casino; it's part of the illustrious Casino Rewards group. This group, renowned for its prestige, extends some of the most generous promotions to loyal patrons across its 29 affiliated casinos. Being a part of this program elevates Captain Cooks into a realm of safety and reliability, making it a top choice for discerning gamblers.
The VIP Experience: Key Characteristics The Captain Cooks VIP program is designed to shower its members with exclusive benefits, embodying the essence of a true VIP experience. Here are the key characteristics that make this loyalty program stand out:
No Membership Fees: Access to the VIP program comes with no additional cost. Players are automatically enrolled upon registration, and the journey through VIP levels begins.
Sign-Up Bonuses: The voyage begins with a flourish as VIP members are greeted with enticing sign-up offers, setting the tone for a rewarding experience from the outset.
Diverse Rewards: From cash bonuses to complimentary gifts, the VIP treatment at Captain Cooks extends beyond the virtual gaming tables. Players can relish in a range of perks that add an extra layer of excitement to their gambling journey.
VIP Lucky Jackpots: Exclusive jackpots await VIP members, adding an element of thrill and anticipation to every gaming session. These special jackpots are reserved for those sailing the seas of the VIP program.
Earning Stripes: Ascending the VIP Levels
Enrolling in the VIP program is a straightforward process – play regularly. Captain Cooks Casino automatically enrolls players in the Casino Rewards Loyalty Program upon registration. This overarching program consists of six distinct status levels. The more one plays, the higher they ascend through these levels, unlocking a treasure trove of benefits at each stage:
Better Promotions and Bonuses: Each VIP level brings with it enhanced promotions and bonuses, ensuring that players receive more bang for their buck.
VIP Support: A dedicated support team caters exclusively to VIP members, ensuring prompt assistance and personalized service.
Exclusive Games: The upper echelons of the VIP program grant access to exclusive games, providing a unique gaming experience tailored for the discerning player.
Birthday Gifts: Celebrations extend beyond the gaming tables with personalized birthday gifts, adding a touch of warmth to the VIP journey.
Personal VIP Hosts: Enjoy the luxury of having a personal VIP host, adding a touch of exclusivity to the overall gaming experience.
Loyalty Points: As players progress through the VIP levels, loyalty points accrue. These points, convertible at a rate of 100 points to one dollar in chips, add an extra dimension to the rewards system.
Captain Cooks Casino impresses with its multifaceted approach to table games, video poker, and video slots. Whether players are drawn to the strategic depth of poker, the thrill of spinning the roulette wheel, or the excitement of chasing progressive jackpots, Captain Cooks Casino offers a well-rounded and entertaining platform. The extensive selection, combined with regular updates, ensures that players of all preferences find their ideal gaming adventure on this online casino.
Captain Cooks Casino Details