Total Overdrive Slot Review
Total Overdrive, an electrifying creation by Betsoft Gaming, artfully blends the nostalgia of classic slot machines with the futuristic charm of modern online slots. As an avid player of both traditional and digital slot games, I was drawn to Total Overdrive's unique approach and captivating features. This online slot offers an immersive experience with its neon-lit visuals, innovative gameplay, and rewarding mechanics. In this comprehensive review, I will delve into the key elements that make Total Overdrive a standout title and share my exhilarating journey through this high-octane slot.
Graphics and Design:
The first aspect that caught my attention while playing Total Overdrive was its striking graphics. The game is set against a futuristic cityscape backdrop, bathed in neon lights that evoke a sense of excitement and energy. The symbols on the reels are reminiscent of classic fruit machines, featuring traditional icons like cherries, bars, and lucky 7s, but with a modern twist. The visuals are sleek and polished, creating a visually appealing slot game that seamlessly blends the old and the new.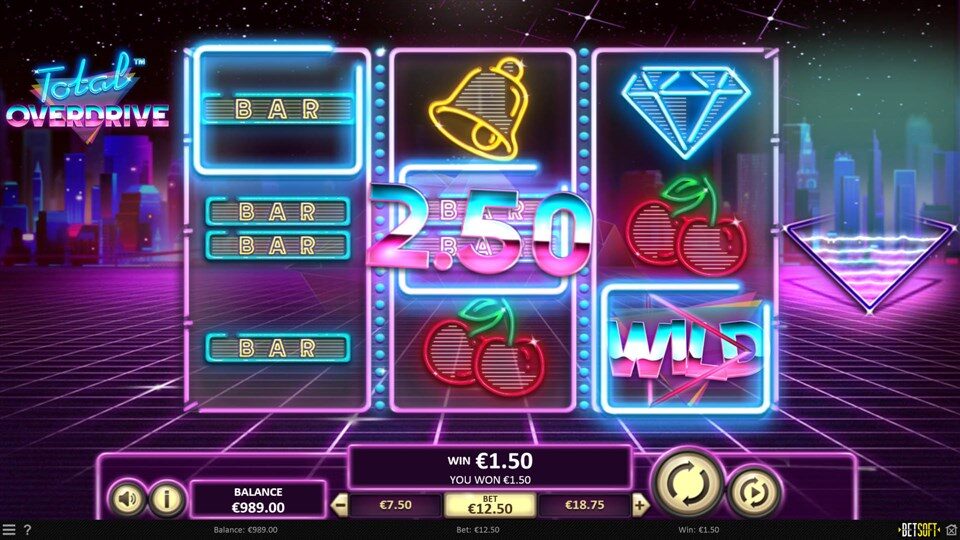 Symbols and Soundtrack:
Total Overdrive embraces classic slot symbolism, with icons that include cherries, lemons, diamonds, bells, and bars. The neon glow of the symbols against the dark background adds to the game's vibrant atmosphere. The accompanying soundtrack features a captivating synthwave theme that complements the futuristic cityscape, enhancing the overall gameplay experience with its energetic beat.
Gameplay and Mechanics:
Total Overdrive operates on a 3×3 grid with 5 paylines, maintaining the simplicity of traditional slot machines. However, the game's mechanics have a modern twist. The Overdrive Multiplier, a key feature in Total Overdrive, increases with each winning spin, potentially reaching up to 10x. This multiplier can create significant winning opportunities, transforming the classic gameplay into a high-paying affair.
Overdrive Multiplier Feature:
The Overdrive Multiplier is the highlight of Total Overdrive. After every winning spin, the multiplier increases by one. With consecutive wins, the multiplier continues to grow, offering a thrilling ride and multiplying the excitement of the game. This innovative feature adds a dynamic layer to Total Overdrive, turning every spin into a chance for big wins.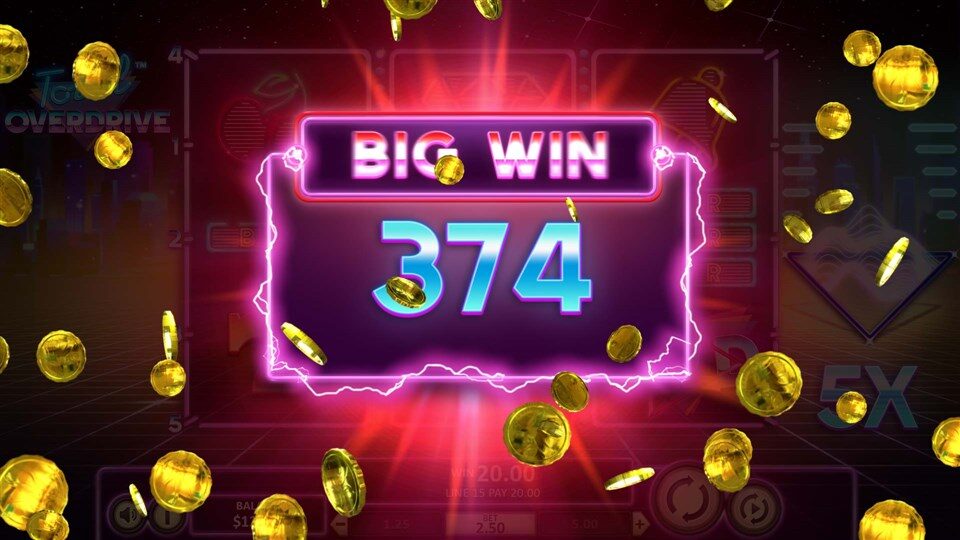 Respins:
Total Overdrive also offers an exciting Respin feature. If two reels have identical symbols but fail to create a winning combination, the Respin feature is triggered. The third reel respins, potentially completing a winning combination. This engaging feature keeps the anticipation high, making each spin action-packed.
RTP and Volatility:
Total Overdrive features a favorable Return to Player (RTP) rate, offering players a fair chance to receive decent returns on their wagers. The game's volatility is medium to high, striking a balance between frequent wins and the potential for more substantial payouts.