Super Sweets Slot Review
Super Sweets, a delectable creation by Betsoft Gaming, whisks players into a candy-filled wonderland that tantalizes the senses. As a fervent slot player, I recently indulged in this delightful title, and it instantly became a favorite. With its sugary graphics, innovative features, and the promise of mouthwatering rewards, Super Sweets offers an enticing gaming experience. In this comprehensive review, I will delve into the key elements that make Super Sweets stand out, revealing the delightful journey I had through this scrumptious slot.
Graphics and Design:
The first thing that captures your attention in Super Sweets is its visually delightful design. The game's backdrop showcases a vibrant and colorful candy factory, where sweets and treats line the shelves. The symbols on the reels add to the sugary atmosphere, featuring lollipops, gummy bears, candy hearts, and more. The visuals are playful and charming, making it impossible to resist the allure of this sweet-filled wonderland.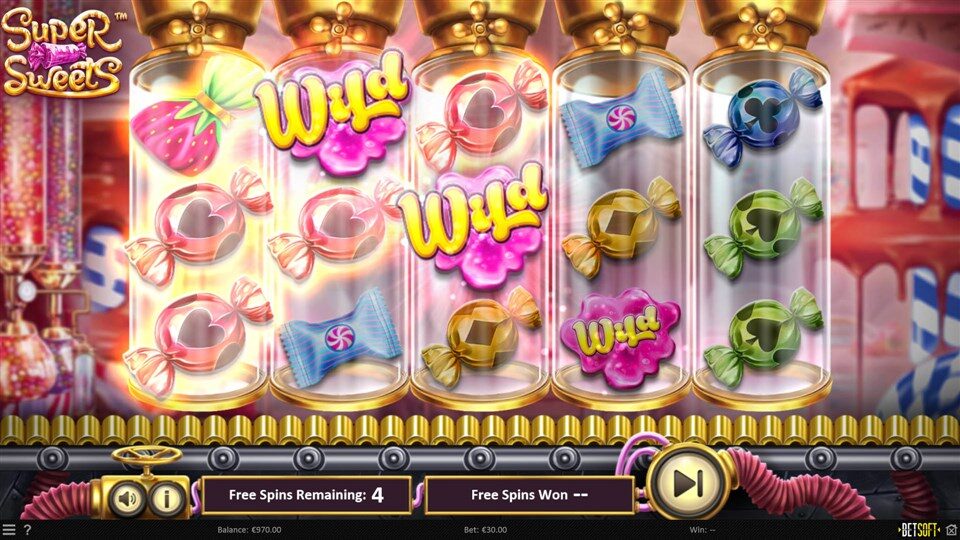 Symbols and Soundtrack:
Super Sweets stays true to its candy theme, featuring an array of delicious symbols that evoke a sense of joy and nostalgia. The candy symbols are rendered with attention to detail and luscious colors, enhancing the game's visual appeal. The soundtrack complements the gameplay, offering a cheerful and catchy tune that adds to the overall sense of delight and excitement.
Gameplay and Mechanics:
Super Sweets operates on a 5×3 grid with 10 paylines, providing a straightforward layout that both new and experienced players can enjoy. The game mechanics are intuitive, making it easy to navigate through the slot's features. The Super Sticky Wilds feature, one of the game's highlights, adds an element of anticipation and can lead to significant wins.
Super Sticky Wilds Feature:
The Super Sticky Wilds feature is the star attraction of Super Sweets. When the Golden Ticket symbol appears on the reels, it transforms into a sticky Wild and triggers a Respin. The Wild remains locked in place during the Respin, potentially leading to additional Wilds and even more Respins. This exciting feature increases the chances of forming lucrative winning combinations, creating a truly immersive and rewarding gameplay experience.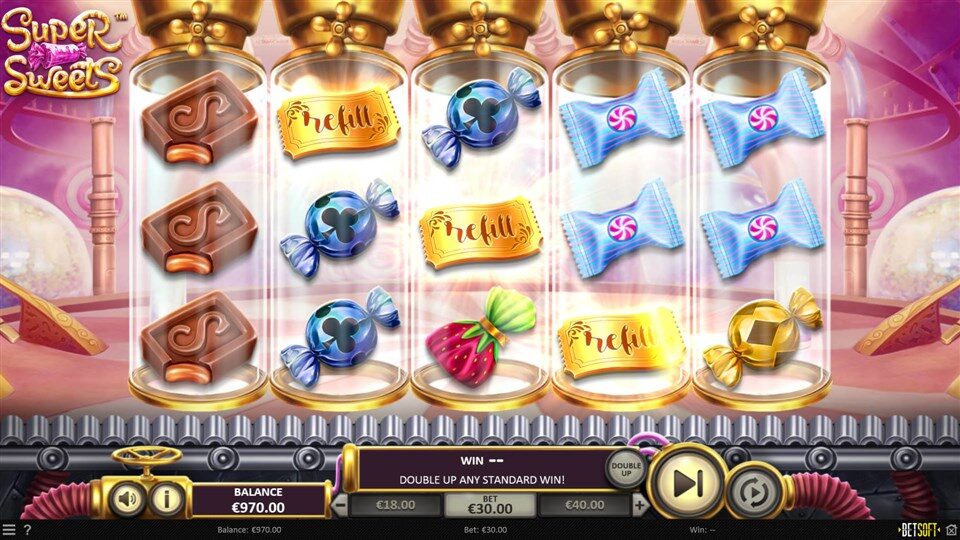 Free Spins and Buy Feature:
Super Sweets offers Free Spins, which can be triggered by landing three or more Wrapped Candy symbols. During the Free Spins round, all Sticky Wilds are carried over, maximizing the potential for big wins. Additionally, the Buy Feature option allows players to bypass the base game and purchase instant access to Free Spins, catering to those seeking more thrill and higher win possibilities.
RTP and Volatility:
Super Sweets features a favorable Return to Player (RTP) rate, ensuring that players have a fair chance of receiving decent returns on their wagers. The game's volatility is medium, creating a balanced gameplay experience with a mix of smaller wins and the potential for more significant payouts.