Spring Tails Slot Review
Spring Tails, a delightful creation by Betsoft Gaming, welcomes players into a vibrant world of cheer and fortune. As a passionate enthusiast of online slot games, I recently had the pleasure of exploring this charming title, and it quickly became one of my favorites. With its enchanting graphics, innovative features, and rewarding gameplay, Spring Tails offers an immersive and enjoyable gaming experience. In this comprehensive analysis, I will delve into the key aspects that make Spring Tails stand out and share my delightful journey through this spring-themed slot.
Graphics and Design:
The first thing that struck me about Spring Tails was its visually appealing design. The game is set in a serene oriental garden, filled with blossoming cherry trees, koi fish ponds, and a traditional pagoda. The symbols on the reels further enhance the theme, featuring lucky golden rats, sparkling jewels, and auspicious coins. The high-quality graphics and vibrant colors create a picturesque setting, capturing the essence of the spring season.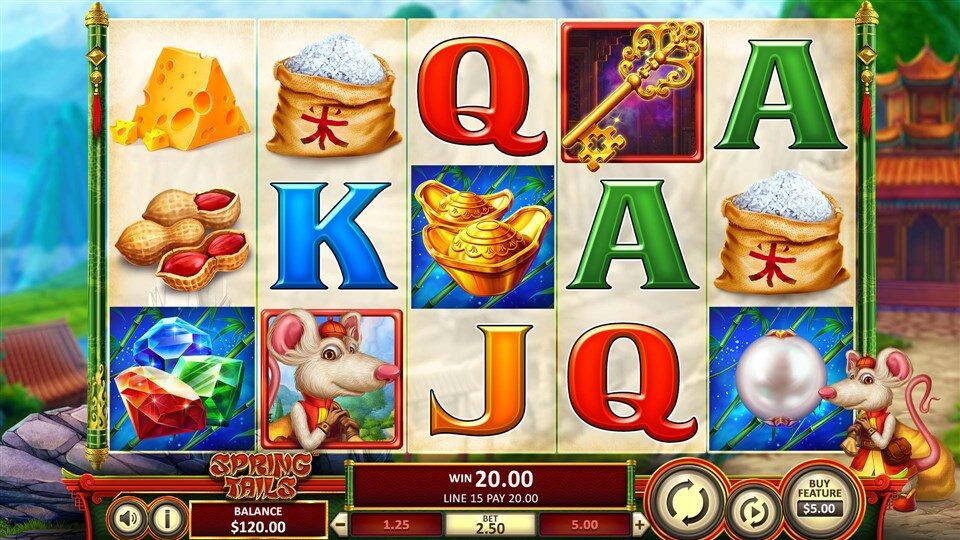 Symbols and Soundtrack:
The symbols in Spring Tails perfectly align with the theme, showcasing elements associated with prosperity and good fortune. The adorable golden rat, a symbol of wealth and luck in Asian culture, takes center stage as the Wild symbol. The accompanying soundtrack is soothing and calming, featuring traditional eastern instruments and melodies that evoke a sense of tranquility and harmony, immersing players in the garden's serenity.
Gameplay and Mechanics:
Spring Tails operates on a 5×5 grid with 5 paylines, providing a simple yet engaging layout that players of all levels can enjoy. The game mechanics are user-friendly, making it easy to navigate through the slot's features. One standout feature is the Lucky Rat Multiplier Wild, where the golden rat Wild symbol can land on the reels with random multipliers of up to 60x, leading to potentially significant wins.
Rat Wild Multiplier Free Spins:
The Free Spins feature in Spring Tails is activated by landing three or more Scatter symbols, represented by the coin. During the Free Spins round, the golden rat Wild symbols appear more frequently, increasing the chances of triggering the multiplier feature. This Free Spins feature not only enhances the excitement but also offers players the potential to secure substantial rewards.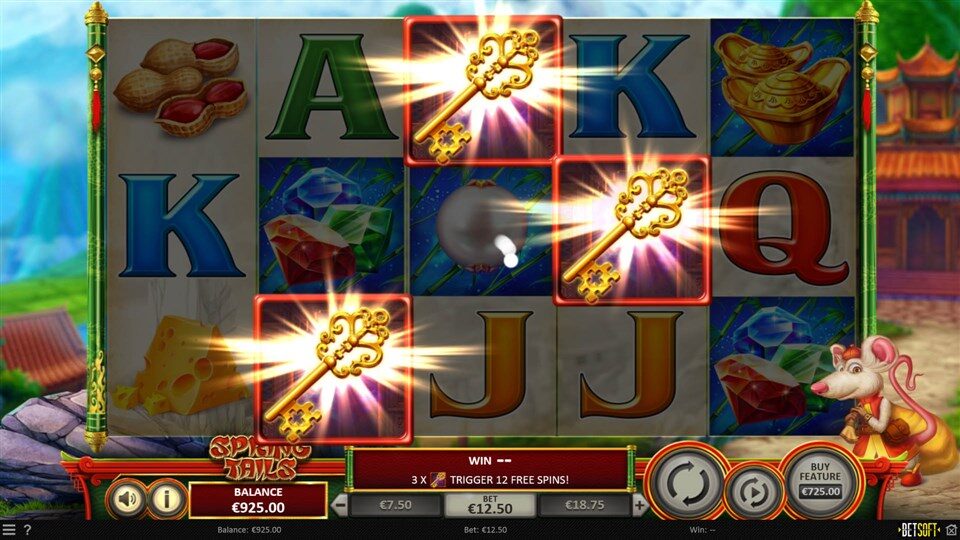 High Volatility and RTP:
Spring Tails embraces high volatility, appealing to players seeking more suspenseful and adrenaline-pumping gameplay. Although wins may be less frequent, they can be substantial, adding to the thrill of each spin. The Return to Player (RTP) rate is also favorable, ensuring that players have a fair chance to receive decent returns on their wagers.
Buy Feature Option:
An interesting addition to Spring Tails is the "Buy Feature" option, which allows players to bypass the traditional method of triggering Free Spins and instead purchase immediate access to the bonus round. This feature caters to players who enjoy high-volatility gameplay and prefer to experience the excitement of the Free Spins feature without waiting for it to activate naturally.