How to Play Video Poker
Video poker, often referred to as poker slots, combines elements of poker strategy with the thrill of slot machines. Unlike traditional slots, video poker requires skill and decision-making, making it a popular choice for those who enjoy both poker and casino gaming. In this beginner's guide, we'll walk you through the basics of how to play video poker and provide essential tips for success.
How to Play Video Poker
Video poker is based on the classic poker game of five-card draw. Here's a step-by-step guide to playing a hand of video poker:
Deposit Credits: Begin by depositing credits into the video poker machine or online casino account.
Place Your Bet: Choose the amount you want to bet for that hand.
Deal the Hand: Hit the "deal" button to receive your initial five-card poker hand.
Discard and Replace: Review your hand and decide which cards to keep and which to discard. You can discard all five cards if needed.
Receive Replacement Cards: After discarding, you'll receive replacement cards from the same virtual deck, forming your final hand.
Collect Your Winnings: Any winnings are paid out according to the game's paytable.
The Importance of the Video Poker Paytable
Understanding the paytable is crucial in video poker, as it determines the payouts for different hands. Paytables can vary widely between games, with some offering higher RTP (return to player) percentages than others. It's essential to consult the paytable before playing to make informed betting decisions.
There are two main categories of video poker games when it comes to payouts: "full pay" and "short pay." Full-pay machines typically offer higher RTP percentages, sometimes even exceeding 100%, when players make optimal decisions for each hand.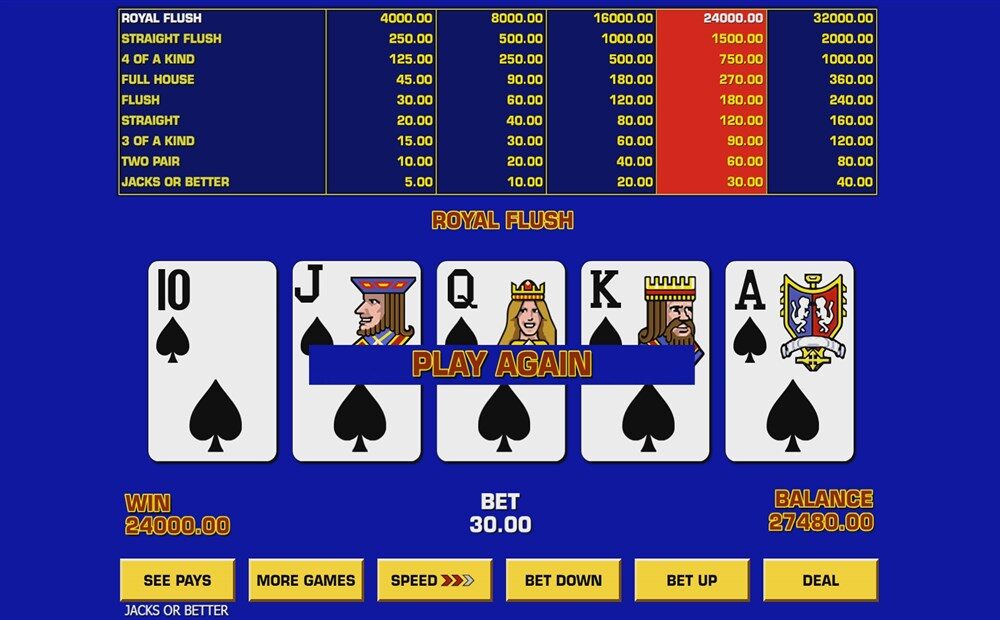 Tips for Winning at Video Poker
While there's no guaranteed way to win at video poker, you can improve your chances over time:
Choose High RTP Games: Play video poker slots with the most advantageous RTP percentages, typically found in full-pay machines.
Optimal Decision-Making: Strive to play each hand in the mathematically optimal manner. Understanding poker hand rankings and probabilities is key to making informed decisions.
Types of Video Poker
Video poker comes in various versions, but here are four popular varieties you can find in UK online casinos:
Jacks or Better: The most common video poker version, where a pair of jacks or better is the minimum winning hand.
Deuces Wild: In this version, twos act as wild cards, substituting for any other card to create better hands.
Bonus Poker: Similar to Jacks or Better, but offers a bonus for four-of-a-kind hands.
Double Bonus: Another variation of Jacks or Better, with bonuses for four aces.
Conclusion:
Video poker combines the thrill of casino gaming with the strategic elements of poker. By understanding the basics, consulting paytables, and making optimal decisions, you can enjoy and potentially succeed in this exciting casino game. Explore different variations to find the one that suits your preferences and gaming style.